A Simple Difference
If you have an elderly loved one requiring full-time care, you may have questions about the options available. If you're considering a nursing home or memory care facility, it's essential to understand the differences between these types of facilities before making a decision.
Memory care facilities are designed exclusively for residents with Alzheimer's disease or dementia, while nursing homes cater to seniors with medical issues who can no longer live at home.
These simple distinguishing characteristics can significantly impact the experience provided for your family member in their chosen long-term care facility.
Memory Care
Our loved ones will experience a certain amount of memory loss as a natural part of aging. However, there are more pronounced situations that move beyond average age-related memory loss, like Alzheimer's disease and dementia.
Someone with Alzheimer's disease or dementia that requires long-term care may benefit from a memory care facility. Residents in memory care receive 24-hour, specialized care for memory loss.
Memory care facilities are strategically designed to recreate life at home, but with proper care to address the specific needs of someone with memory loss.
The experienced and compassionate staff in these facilities specialize in memory care to help prevent and minimize challenging dementia behaviors, like:
Sleep disturbances: Memory loss can lead to erratic sleep patterns and nighttime wandering.
Agitation: Memory loss can lead to physical or verbal aggression, emotional distress, restlessness, pacing, and destructive behaviors.
Delusions: Firmly believing in something that isn't real.
Hallucinations: Seeing, hearing, feeling something that isn't there.
Memory care takes a more holistic approach to enhance the quality of life for people with memory loss, while providing a secure environment to prevent wandering and minimize confusion.
Meals are often eaten together in a comfortable setting, and specially-trained staff members are available to help residents with the activities of daily living (ADLs).
You can rest easy knowing your loved ones with Alzheimer's or dementia are safe in their memory care community. The grounds are often designed with safety features like locked and alarmed exit doors to prevent wandering and confusion.
Many memory care facilities are specifically designed to promote relaxation, reduce confusion, and comfort their community members with memory loss. Well-researched design features frequently found in memory care facilities can include:
Brightly colored walls & floors: To help support visual limitations
Natural light: Natural light is proven to be calming and therapeutic
Shared spaces: Interacting with others can help create a more profound sense of belonging
Memory care gardens: An opportunity for safe and supported movement in a peaceful setting
Memory boxes: Personalized memorabilia to help residents feel at home.
A memory care facility will provide specific programs and personalized activities centered around memory enhancement. These programs are well-researched to help elevate the quality of life of their community members and improve cognitive function.
Activities can include:
Music therapy: Listening to music helps to enhance memory, lower stress, and improve cognitive skills.
Puzzles and activities: Staff provides physical and mental stimulation tailored to each resident's abilities.
Arts & Crafts therapy: A creative outlet is essential, regardless of skill or cognitive ability level.
Much, much more: Life-enriching daily activities are a vital part of building and maintaining cognitive function.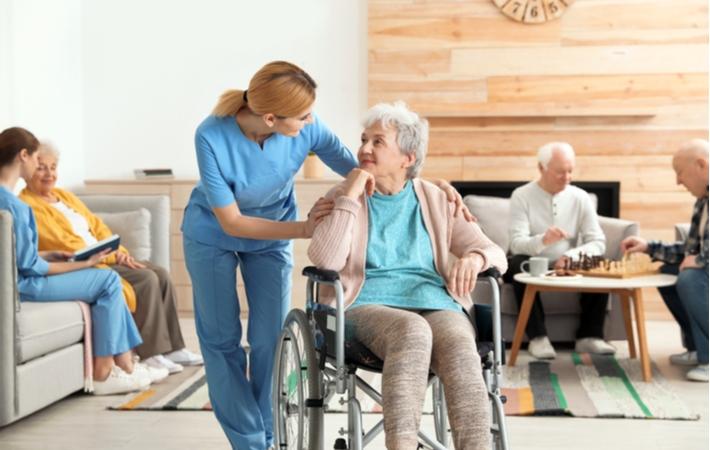 Nursing Homes
Skilled nursing homes offer complete around-the-clock medical care for your loved ones with more complex medical issues. Skilled nursing may benefit your loved ones if they are bedridden or require full-time nursing care.
Residents in a nursing community may not live independently, have severe mobility or health issues, and generally cannot care for themselves. Staff is trained to provide medical aid and assist with the activities of daily living.
Skilled nursing home services may include:
Medication management
Dressings and wound care
IV therapy
Respiratory therapy
Speech therapy
Occupational therapy
Physical therapy
It's essential to note that although nursing homes can offer support to elderly residents with memory loss, staff often do not have the same level of training or expertise for Alzheimer's disease or dementia.
Modern skilled nursing facilities offer a personalized, inviting, homey environment, and they may provide social opportunities and a variety of activities for their residents, in addition to medical care.
Commonly provided services in a nursing home can include:
24/7 supervision and assistance
Shared or private rooms, depending on budget and availability
Meal service and housekeeping
Social activities like book clubs, crafts, game and movie nights
Outdoor and indoor exercise opportunities
The Right Choice
Memory care facilities and nursing homes will provide 24-hour care, supervision, meals, and support with the activities of daily living. Your loved one will be cared for in either type of facility, provided they are placed in the right environment.
Your family members with Alzheimer's disease or dementia may benefit significantly from memory care. In contrast, seniors with more extensive medical needs may require a nursing home with top-quality medical care and rehabilitative therapies.
Speak with your family, friends, or family doctor about your loved ones' care needs, and take some time to determine the type of care required. It's always vital to research your preferred facilities, and look at all the available options.
If you have further questions, would like some guidance, or would like more details about the levels of care offered at Meadowcrest at Middleton, reach out to us today. Our knowledgeable and compassionate staff would love to help!