There's No Place Like Home
It can be overwhelming and confusing when our loved ones are diagnosed with Alzheimer's disease or dementia. It's essential to seek out detailed information about these progressive conditions before deciding your next steps.
Studies have shown that remaining at home can be beneficial to those in the early stages of dementia. You may hear the term "aging in place" and wonder what it means for you and your family.
Aging in place means being where you want to be as you grow older. It's vital to note that staying at home does not always define aging in place. Ultimately, aging in place respects our loved ones' quality of life, wellbeing, and choices.
If your loved one with Alzheimer's wants to remain living at home, coordinating their care will require commitment and careful planning.
Consideration & Care
There are many factors to consider when caring for a loved one with Alzheimer's or dementia, like:
The personal wellbeing of your loved one: Can your family member experience a higher quality of life while living at home with memory loss? Staying at home without proper care or support may affect their health and cognitive abilities.
Healthy routines: Will it be easy for your loved one to keep in touch with friends and family, stay social, and participate in beloved hobbies and activities? Staying connected in their regular routines can help provide a sense of calm and control.
Safety: Is your loved one living in a comfortable and safe environment? Special consideration should be made when determining how to make their space more supportive as the condition progresses.
Finances: You will need to take an in-depth look into your and your loved ones' financial situation, and investigate the costs involved with senior support in your area. A secure idea of finances will help plan for any costs involved with staying at home.
Supports are Available
You and your loved one are not alone. There is help available to seniors living at home with Alzheimer's or dementia. Some supports may be financed by yourself and your family members, and others may be offered by community-based services in your area.
Help can be provided in areas like:
Personal care: Support for tasks like hygiene, dressing, and mobility.
Chores: Hired helpers for tasks like yard maintenance, house cleaning, and laundry.
Groceries: Purchasing groceries online and picking them up from the store, or utilizing a company that shops on your behalf, delivering items directly to your door.
Meals: Consider taking advantage of a meal delivery service. Some meal delivery programs for seniors are free.
Health Care: Home health aides are available as a paid out-of-pocket service, or are sometimes covered by private insurance or Medicaid.
Geriatric Care Managers: A trained professional can help you create a long-term care plan for your loved one with Alzheimer's or dementia, and find all the support and services your family requires.
Watch for These Signs
In the early stages of Alzheimer's or dementia, you may not notice any significant changes to cognitive abilities or behaviors, and with proper supports in place, your loved one may be able to spend many well-lived moments and years at home.
However, it's essential to note that these conditions are progressive, and there may be a stage when your loved ones' safety and wellbeing are at risk by remaining at home. Caregivers should be vigilant and watch for these signs:
Changes to Behaviour
Memory loss may significantly alter your loved one's behavior and personality. Pay special attention if your loved one becomes:
Socially anxious
Forgetful
Withdrawn and irritable
Increasingly agitated
Frustrated with themselves
Risks to Personal Safety
Dementia causes disorientation. This confusion can lead to forgetfulness, the ability to judge distances, and balance issues, resulting in dangerous situations that end in severe injury. Pay close attention to your loved one's safety (and the safety of those around them).
Declining Physical Health
As dementia progresses, our loved ones may neglect their health or forget to listen to their bodies, resulting in various medical conditions. Poor physical health often results from:
Lack of hygiene
Poor nutrition
Medication mismanagement
Injuries and accidents
Broken Relationships
Caregiving for our loved ones with Alzheimer's or dementia can be heartbreaking and overwhelming. There are a lot of tasks to focus on when supporting our family members, and it's easy to forget all the things we love about them.
If you notice a number of these signs and are concerned about the wellbeing of your loved one, it may be time to consider transitioning your loved one into a memory care facility.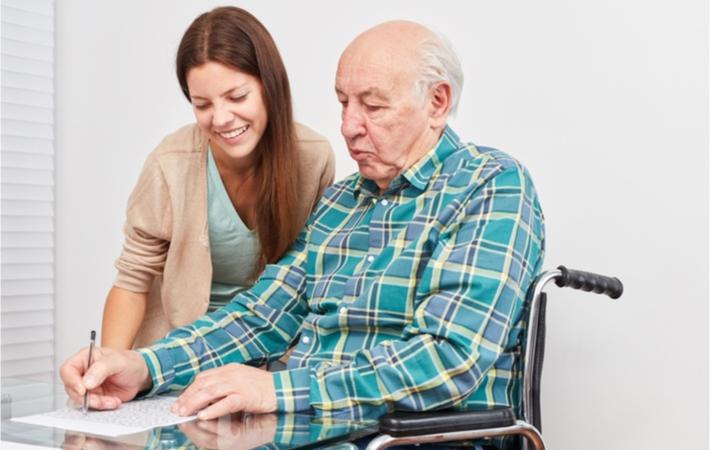 Another Option
Memory care units can offer our loved ones with dementia and their caregivers a fresh start by providing cognitive support and a personalized routine. But how do we determine if a transition to memory care is the healthiest choice?
If you are thinking about moving your loved ones from their home to memory care, consider these questions:
Is staying home the safest choice?
What are the risks for my loved ones if they remain at home?
Is my loved one happy in their current situation?
What are my instincts telling me?
What does the doctor suggest?
If you feel your loved one will be safer and happier in a memory care facility, you will need to sit down and discuss the transition with them. Be supportive, be ready to answer any questions, and help provide confidence that a memory care community will help improve their current lifestyle.
Home, Sweet Home
If you want more information about the benefits of aging in place or have questions about memory care for your loved ones, please don't hesitate to contact the team at Meadowcrest at Middletown. We're an experienced team who are always ready to help.