When helping a loved one with dementia make the move into a senior living community, you want to be sure you're finding the place that's just right for them. They may not be able to remain in their home on their own, but you don't want them to feel locked away someplace cold and clinical.
What options does a person living with dementia have to balance care and comfort or blend enjoyment and security? Would an assisted living community be a good option for them?
Our team at Meadowcrest at Middleton is here to help you navigate the waters of finding a fit in dementia care. Read on to learn more about dementia and the different lifestyles available in our senior living community. Discover how we provide a home for our residents with dementia that offers dignity, respect, choice, and opportunity.
Understanding Dementia
Dementia is an umbrella term for impairments that affect cognition, decision making, and memory. Dementia interferes with a person's ability to live their everyday life independently with safety and ease. Symptoms may appear as:
Memory loss, often noticed by someone else
Forgetting words or struggling to communicate
Getting lost in a familiar place
Difficulty handling complex tasks, planning or organization, or problem-solving
Challenges around coordination & motor functions
Confusion & disorientation
Personality changes from sharp mood shifts to inappropriate behaviors to paranoia
Feelings of depression & anxiety
Agitation
Hallucinations
According to the CDC, roughly 5 million Americans live with dementia—and that number is projected to swell to nearly 14 million by 2060.
The most common form of dementia is Alzheimer's disease, accounting for up to 80% of dementia cases.
Dementia often affects older adults, but it is not a normal part of aging. Most of us misplace our keys, fail to recall words, or forget names, but dementia goes far beyond occasional memory lapses. It's caused by damage to brain cells that interferes with their ability to communicate effectively.
Types of Senior Living
Before deciding if assisted living is the appropriate lifestyle community for someone with dementia, let's look at the main types of senior living communities available.
Independent Living
Independent living is designed for older adults who can manage their daily care tasks but are looking for more relaxation, socialization, and time for hobbies and activities without the hassle of the upkeep and maintenance of a large family home.
Independent living offers all the convenient services and amenities of a senior living community, though only some meals are included, and daily care tasks aren't included in the package. Independent living is likely not the right option for someone with dementia.
Assisted Living
Assisted living offers a life of independence and convenience with a little more support in the necessary areas. This can include grooming, dressing, and medication management—the specific care given is uniquely tailored to each person's exact needs. Care staff, including licensed nurses, are on hand 24/7 to assist community members.
Many people with dementia live rich, enjoyable lives in assisted living communities—reports suggest up to 68% of people in assisted living communities have a dementia diagnosis of some sort. Especially in the earlier stages of memory loss, assisted living is a perfect place for your loved one to reside comfortably and safely.
Memory Care
Memory care is designed specifically with dementia patients in mind. 24/7 care is a cornerstone of most memory care communities, and suites are designed to maximize the quality of life and security of those who reside there.
Memory care is intended for people with dementia, offering a specially tailored environment that provides respect, dignity, and care to residents.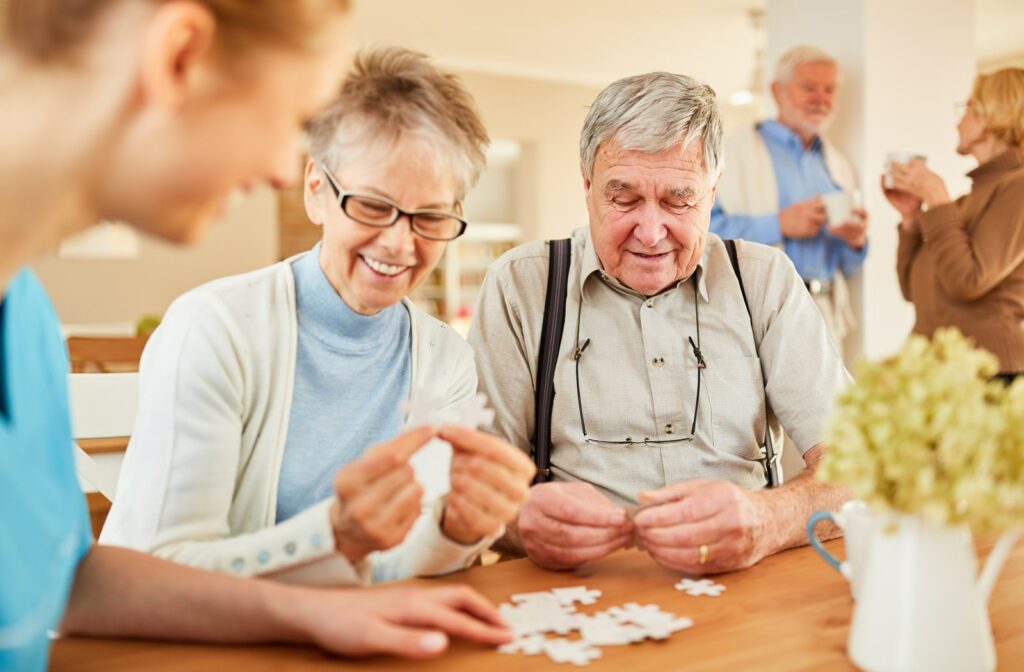 Living with Dementia Supports
So, can people with dementia live in an assisted living community? In short, yes. But let's break down 2 of the best lifestyle options for those living with dementia: assisted living and memory care.
The Similarities
In both our assisted living and memory care communities, we tailor each community member's care plan to their specific needs, thanks to a thorough assessment upon move-in, as well as daily wellness checks and 24-hour care available 7 days a week. The well-appointed suites in our assisted living community and our memory care neighborhood are built for comfort, accessibility, and a sense of hominess.
The Differences
The main difference is in the intentional design of our memory care communities. At Meadowcrest at Middleton, we offer a Compass Memory Care Neighbourhood, which uses nonverbal communication methods like:
Color psychology, including colors that stimulate appetite in the dining room & distinctly colored halls to indicate where in the neighborhood a resident is
Directional cues, including design features like unique siding and porch lamps that help distinguish suites from one another & a layout that aids navigation
Light therapy, like making use of natural light to help keep sleep rhythms on track
These distinctive features combine to build an environment that's soothing, comfortable, and decreases confusion in dementia patients.
All our memory care team members are specially trained to understand the unique challenges those with dementia may face. Evidence-based dementia advancements inform our practice. We work with each resident at their own pace, respecting their feelings and wishes and ensuring they feel heard—we call it structured fluidity.
Helping Your Loved One Adjust to Their New Home
If you're moving a loved one with dementia into a new home in an assisted living or memory care community, set them up for success. These tips may help smooth the journey and set them up for success and happiness in their new space:
Depending on their level of cognition, involve your loved one in the planning. This allows them to remain in control of their living situation & can prepare them for moving day
Visit the community in advance. Little can provoke anxiety quite like swirling questions about a complete unknown. Visiting the senior living community in advance helps your loved one familiarize themself with their new home.
Bring a collection of familiar & sentimental items. Having strong reminders of their home will make your loved one's new suite feel like home.
Optimize the time of the move. Try not to make the move-in time a part of the day where your loved one will feel out-of-sorts, tired, or hungry. Come to their new home when they're in good spirits, if possible.
Visit regularly, if possible. Help build their new routine by checking in with your loved one. Ensure they feel cared for, comfortable, and not forgotten by those they love.
Care Tailored to Your Loved One
Make sure the ones you love have the best in care, comfort, and amenities. A community that is prepared to cater to the needs of those with dementia can make a world of difference in their health, happiness, and quality of life.
Meadowcrest at Middleton is happy to offer your loved one a welcoming place in our close-knit community. Contact us with your questions or to arrange a tour. We look forward to meeting you!