Moving to a senior living community can be a huge step for an aging adult. Even if a person can still take care of themselves in the day-to-day things, eventually maintaining a household—and everything that goes along with that—becomes too much for someone to do by themselves.
A major misconception about senior communities is that they are a place where old or sick people live, and this is simply not true. There are many benefits to becoming a part of one of these communities, even for an independent adult.
The key is finding the community that's the right fit. It's no different than choosing a particular neighborhood to live in. Between each community, there are typically similar services or amenities, but each one is still unique.
What is a Senior Living Community?
Before we get into the top reasons for moving to a senior living community, let's look at the different types of communities there are. Assisted living and independent living are the two primary types of senior communities that you'll find. And memory care is similar to assisted living with some distinct traits.
Independent Living
This type of community is for the older adult who is still in good health and takes care of themselves. In many cases, independent living homes are apartments or condos. However, in some communities, they are actually individual, detached homes.
An independent living community is staffed with people to make the senior's life easier. As a rule, the older adult does not have to worry about home maintenance. And there are often services like laundry or meal preparation available.
In addition, most independent living communities have other amenities on-site such as fitness rooms or exercise classes, salons and spas, or comfortable common areas for socialization.
Assisted Living
In many ways, assisted living is the same as independent living. However, the big difference is that there is a much bigger focus on the services and amenities that assist in the resident's daily life.
For example, 24/7 nursing care and emergency response monitoring are two significant things. There are also usually activities specifically geared for older adults who need assistance.
The big idea is a balance. Most assisted living communities try to give their senior residents as much independence as safely possible.
Memory Care
Memory care is much the same as assisted living, except it's designed for those with Alzheimer's disease or other dementia-related illnesses.
With a memory care community, the residence is designed to provide a safe environment for those who live there. For example, it's generally laid out in a way that helps prevent getting lost. And there are usually locked doors to prevent residents from getting outside.
There will also be 24/7 care from staff who are trained to deal with the specific challenges of dementia and Alzheimer's.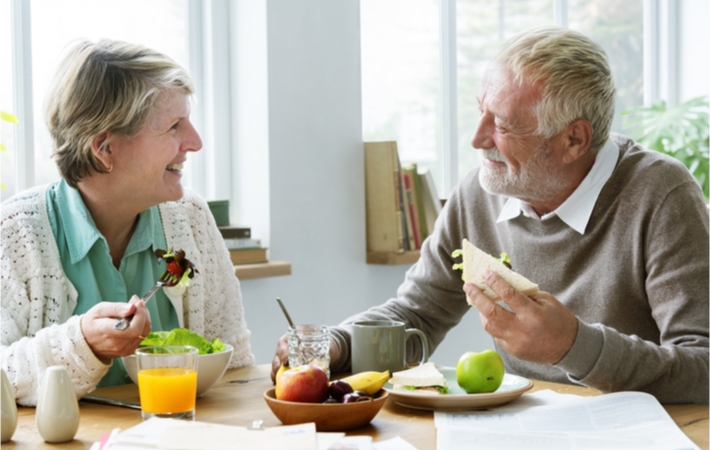 Top Reasons for Moving to a Senior Living Community
Even if there is some apprehension about moving into a senior living community, there are some incredible perks you can look forward to.
No Maintenance
Even if an older adult can keep up on some of the daily maintenance tasks that accompany owning a home, there comes the point when they just shouldn't have to. Being a part of a senior community means that there is no more maintenance. There is a staff that takes care of it.
Good Dining Options
It's hard enough to eat healthy at the best of times. As a person ages, it can be a lot of work to maintain a healthy diet even if they only cook for one. Assisted living and independent living both have prepared dining options usually. This way, the residents can stop worrying about ensuring they're eating healthy.
Socialization
It can get hard to go out and socialize as one ages. In a senior community, you're surrounded by people in similar walks of life. In many cases, you can walk down the hall to a common area and play a game of cards, or get out and go for a walk with your new friends.
Staying Active
It's not hard to get out and go for walks. Still, the benefit of a senior community is the variety of options. Many of these places have gyms or fitness centers, dance classes, and many other ways to stay active—and you can do these things with friends.
Safety
One of the biggest benefits of a senior community is safety and security. Even with independent living, staff are available to help in a medical emergency, and many of these communities are locked to the general public. So, there are no worries about strangers wandering around.
Finding Out More About Senior Living
If you've been considering the jump to a senior living community for yourself or a loved one, give us a call today. The compassionate and helpful staff of Meadowcrest at Middletown are happy to answer all your questions and book you a tour of the community so you can see the lifestyle you can expect.