When Does Memory Care Become Needed?
Memory care is a senior living community specializing in care for people with Alzheimer's disease and other dementias. Memory care is distinct from other forms of care like independent living and assisted living.
Depending on your loved one's condition, they may benefit from living in a memory care community where staff are dedicated to providing the care and compassion they need. But when do you need to consider memory care as an option? Why can't they keep living on their own?
Paying attention to your loved one's condition and knowing the symptoms and causes of Alzheimer's and dementia can help you determine when memory care is needed.
What is Alzheimer's Disease?
Alzheimer's disease causes brain cells to die and the brain overall to shrink. Over time, people with Alzheimer's see a decline in their ability to think, changes in their behavior, and reduced social skills.
People with Alzheimer's disease experience several symptoms affecting their brain function. Each person's condition is unique; however, some common conditions include:
Increased forgetfulness
Trouble speaking concisely
Unfamiliarity with surroundings
Poor decision-making skills
Shortened attention span
These symptoms are essential to watch for as you monitor your loved one's condition to decide if memory care is needed. It's also helpful to understand the causes in case your loved one is at more risk of developing Alzheimer's.
Alzheimer's Disease Causes
The exact root cause of Alzheimer's is unknown. However, researchers have determined that Alzheimer's disease is likely the result of proteins in the brain, and genetics is a significant determining factor in developing Alzheimer's.
Age is a commonly known risk factor associated with Alzheimer's disease. Most people develop Alzheimer's symptoms after they turn 65; however, they may develop them earlier.
A person's lifestyle and habits also contribute to their risk of developing Alzheimer's. A person who doesn't stimulate their mind might be more likely to develop Alzheimer's than somebody who exercises their brain sufficiently.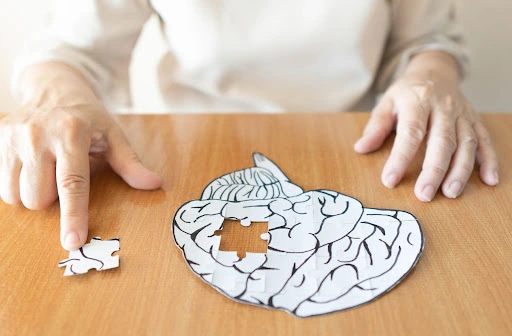 What is Dementia?
Dementia is not a disease by itself. It's a set of conditions usually characterized by memory loss and changes in behavior caused by reduced brain function. In fact, Alzheimer's disease is a type of dementia.
While people with Alzheimer's disease experience memory loss and personality changes, a person with dementia may experience these in a more severe form. Symptoms of dementia include:
Worsened memory loss
Sudden mood swings
Visual hallucinations
Getting lost frequently
Impaired speech & language
Dementia can result in severe health and safety risks, especially if a person lives at home by themselves.
Dementia Causes
Dementia is usually the result of a worsened existing condition. A person with Alzheimer's disease, for example, could see their condition worsen to a form of dementia.
Dementia comes in four primary forms according to what causes the condition:
Alzheimer's disease dementia
Vascular dementia
Lewy body dementia
Frontotemportal dementia
Each cause of dementia can lead to varying degrees of memory loss, behavior changes, and care needs. Dementia is a highly individualized condition which means people with dementia often require elevated, specialized, and personal care.
When Is Memory Care an Option?
Memory care becomes an option when a person with Alzheimer's disease or dementia can no longer perform daily tasks for themselves. As their condition progresses, they can be more forgetful, distrustful of their loved ones, and get lost more frequently. These circumstances can make it difficult for people with dementia to live independently.
Determining if memory care is an option for your loved one comes down to assessing their living conditions and ability to complete everyday tasks independently. If you decide your loved one can't safely live on or needs more specialized care than you can provide, then memory care becomes an option.
The Meadowcrest Difference
New Directions at Meadowcrest is our specialized memory care community, built to provide people with Alzheimer's and dementia with an attentive and comprehensive level of care. New Directions is designed to help improve a person's condition and make it easier to go about their daily routine.
Building Routine
An essential part of memory care is building rigid, predictable routines. Routines make life easier for people with Alzheimer's and dementia by helping them focus on specific activities and removing variables and disruptions.
Expert Care
Staff at new directions receive training to communicate with and meet the needs of people with Alzheimer's and dementia. Memory care staff are compassionate and excited about helping your loved one lead a fulfilling, healthy life.
Enhanced Safety
New Directions at Meadowcrest is committed to keeping your loved one safe by introducing fall risk reduction methods, a secure property to reduce the chance of unsafe situations, and staff to look out for their wellbeing constantly with wellness checks and personalized care.
Get in Touch With Us
Do you believe memory care is an option for your loved one? Contact us today or book a tour to see the benefits of New Directions at Meadowcrest for yourself.