Furnishing Your New Home
There are many benefits to moving into a senior living community. Without the responsibilities of home care and household chores, seniors can focus on activities and experiences that help them thrive. Yet, moving to a new space means making a moving plan—and deciding what to take with you.
Before you can write up your assisted living checklist, you'll need to know what you should or shouldn't bring, including furniture.
Are Assisted Living Residences Furnished?
Assisted living homes are furnished residences, meaning you don't need to bring your own furniture. Before you create a packing list for moving day, find out what furnishings are provided.
Depending on the living arrangements, there may be a mix of private and shared spaces. You're more likely allowed the freedom to personalize private spaces but may need to follow guidelines about shared rooms.
Ask about what furniture or items you're allowed to bring with you. Some residences may prohibit certain items. For example, an in-room coffee maker may be considered a hazard, and you'll need to enjoy your morning brew from a shared appliance.
Can You Bring Large Furniture?
Many assisted living homes allow seniors to personalize private spaces with their own furniture. A Center for Disease Control study found 73% of facilities allowed large furniture items, including beds, couches, and dining room tables.
Before you rent a moving truck, remember to measure your new space. When moving from a fully furnished house to an assisted living apartment, you'll need to downsize to fit the smaller place.
Ask residents of your new home what they brought when they moved in and what they recommend. They've experienced the move firsthand and might have helpful tips.
When possible, use a floor plan of your new residence while choosing your larger furniture items. Think about how you'd position items and be careful of overcrowding the space, even if it means leaving a favorite item behind. Too much furniture can be a mobility risk.
Small Items for a Personal Touch
About 97% of facilities allow residents to bring small furniture. Small items can help make a new place feel like home, but your floor plan needs to accommodate the knickknacks, floor lamps, shelving, and other smaller pieces.
Leaving behind a bookcase or cabinet might seem easy, but what about the item you once stored inside? Bringing your treasured collectibles can personalize and provide warmth in a new space. Still, you need space to display your memorabilia.
Make a list of any small items you want to personalize your residence. Then, add them to a practice floor plan, whether wall space for photographs, throw pillows for a cozy couch, or a shelf for your favorite books.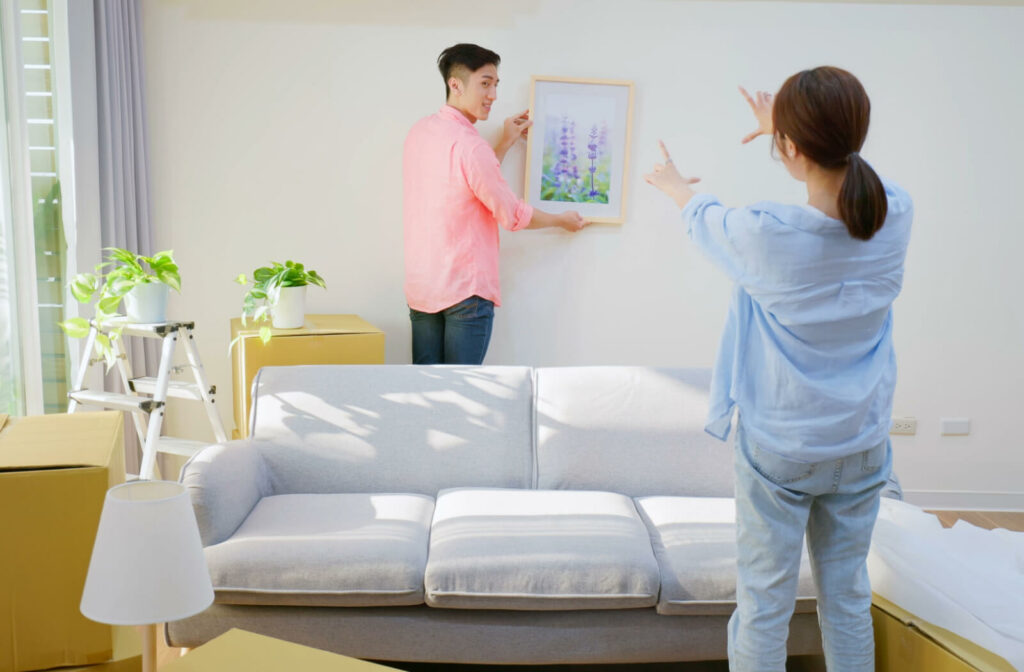 Can You Bring Pets?
Like most condominium and apartment buildings, whether or not you can live with a pet depends. Fortunately, most assisted living communities are pet-friendly. The facility may have in-house pet care services or connect residents with pet care from outside vendors.
Many senior communities allow smaller cats and dogs but may have stricter rules about less traditional pets. For example, you may love your pet snake, but the caregivers, staff, and neighboring residents may have other feelings. Aquariums and pet habitats can also risk damage, like a leaking tank.
If your loved one is moving with a pet, contact the facility to check their pet policy first—and specify what type of pet you're bringing!
Remember to include pet furniture items on your practice floor plan. For example, are you bringing a cat tree for your feline? Does your dog sleep in a crate or a dog bed? How much space is needed for your bird cage? Before packing any chew tows or pet puzzles, ask if there are rules about what pet items are allowed.
Tips for Downsizing
Large furniture may be allowed, but your assisted living home may not have room to fit all your possessions. Before moving, seniors may need to downsize.
Downsizing is all about prioritizing. First, focus on must-haves, including furniture not provided or cherished items. Then, organize your items into 3 categories: keep, toss, and donate.
You may go over the "keep" pile a few times to trim away unnecessary items, but it can help to have a starting point. The keep category can include items you want to bring and items for storage.
The donate category may be items kept by family members or given to charity organizations. It's also where any duplicates should end up, as there's unlikely room for more than one of anything in your smaller residence.
Start your downsizing plan early, at least 3 months before your moving date. You can also create a timeline, such as when you need to decide on must-haves or when to move oversized items into storage.
Another fantastic downsizing tip is digitizing memorabilia. Photos, letters, and childhood artwork can take up space, but it can be heartbreaking to throw away. Instead, create a digital copy so you can keep the memories without taking up space.
Discover Your Community
Before packing your furniture, finding a community for your move is the first step. Our beautiful residences are more than a cozy spot to rest your head. Meadowcrest at Middletown makes it easy to live life your way. With our community, you'll discover meaningful connections and amenities supportive of an active lifestyle. Book a tour today!